The spring game ended and left fans satisfied and eager to see more. It was green vs yellow, with green taking home the win in a 23-20 game. The event may not have meant much in the long run, given it's a simple intrasquad scrimmage game, but it gave us our first look on how the Oregon football team is doing thus far.
We got to see how the new faces on the team play, how veterans of the team have grown, and just what the future looks like come the football season. It was a fun game, that was for sure, especially when nothing was really on the line. I'll give you some of the biggest takeaways and highlight some of the players that really stood out.
Bo Nix Steals the Show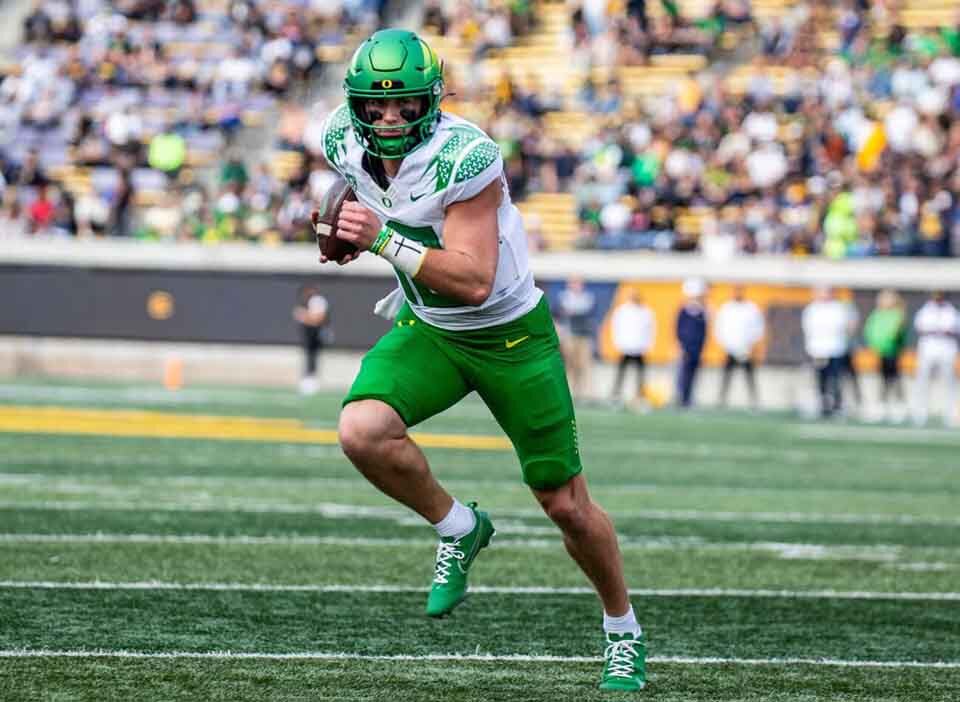 With the QB being the most important role in football, they're usually the main focus when it comes to media attention and speculation, and Nix gave the fans quite the show. After giving freshman Austin Novosad handle a few rounds for some experience, Nix returned to the front once the green team's score began to drop. He then proceeded to lead his team on to score after score, with his last touchdown coming with 1:02 on the clock in the fourth quarter.
For a scrimmage game, Nix certainly went all out. For a QB as contentious as Nix when it comes to his ability, he gave fans quite a treat, and went on to show why he's more than fit to lead the team.
Mase Funa Shows Growth
Playing for the green team, Funa showed he's definitely grown since he first started out. A tackle for a loss and 3 of the 11 pass breakups, it's clear he will become a key player in further games, especially with his newfound ability for pattern recognition when it comes to offensive plays. He batted down one pass while nearly intercepting another.
"That's the bomb play that the offense loves to run," Funa had said to the media. "They've been running it all spring ball. I've seen it; they motioned the tight end to go three open, they jumped the back to my side. I was like 'oh, boom, he's going to do it'. I tried to jump it. If I didn't have the brace, I would have had the flexibility to catch. No excuses, I got to catch it."
He's a talented player, and even he admits that this sort of recognition is something he wouldn't have had when he was just starting out.
Dan Lanning Isn't Revealing Anything
Aside from a few comments, Oregon's head coach was fairly mum when it came to questions asked by the media. He hasn't gone in depth or really spoke of tactics. Some say he's just not interested, there were no real plans, or that he isn't showing off anything in depth until the real deal comes along. After all, they still have a lot of time to practice before the games start.
The Defense Isn't Messing Around
According to Dan Lanning, the defense was going to be far more physical than they were in 2022. He wasn't kidding, because the defensive line wasn't letting anything slip past. Players like Jamal Hill, Tysheem Johnson, Cole Martin, and Jeffrey Bassa showed no mercy, with tackle after tackle really showing where they were planning on taking the defense come the fall. The hits were hard, and it's going to be interesting to see how this change of strategy turns out come the fall.
Props to Cole Martin
Speaking of defense, let's talk about the true freshman defensive back that made his presence known during the game. Cole Martin the son of a coach, so it would be expected that he would know a thing or two, and a thing or two he knew. As was the plan for a more physical defense, Martin definitely got physical. A big hit and a tackle in an open space was a highlight for him, and while it was blown dead in the end, he did take a punt return 29 yards up the field. He finished the game with a total of 3 tackles. He's not perfect, but he shows quite a bit of promise, and I can easily imagine him being quite the key player on the team.
Ty Thompson Steps It Up After Initial Fumble
Ty Thompson was, shall we say, not the greatest at the start of the game. The pressure was on when it came to finally showing off all his progress to the fans and, well, all of America, and it didn't go well initially. 6 incomplete passes in the game's opening? 3 of which could have absolutely been interceptions? Yeah, it wasn't looking good, and it seemed as though it was killing his confidence.
Something must have put a boot up his rear, though, because he gained his drive come the second half of the game. We're talking about a 63-yard touchdown pass to Tez Johnson, followed by throwing a pass for over 60 yards to Kris Hutson, a pass that led to a score on the next play from three yards out. He was on fire near the end, and I commend him for the recovery. Many athletes would let such an initial fumble bring them down for the rest of the game, but Thompson used it as inspiration, it seemed.
Several Drops From the Wide Receivers Isn't Good
Anything more to be said? There were quite a few notable drops that made themselves known from the wide receivers, to the point where it was a glaring issue. While the fall games are a ways away, it's still a worrying sight, and I hope they get everything patched up and work on those passes. I understand that this was a scrimmage game and that it doesn't matter in the long run, but it should still be worked on. The last thing fans want is to see so many drops during a real game.
The 2023 season starts on August 26, you can review the entire schedule here.