Winery Weddings, Are They Worth It? 10 of The Best Oregon Venues for Your Perfect Wine Country Wedding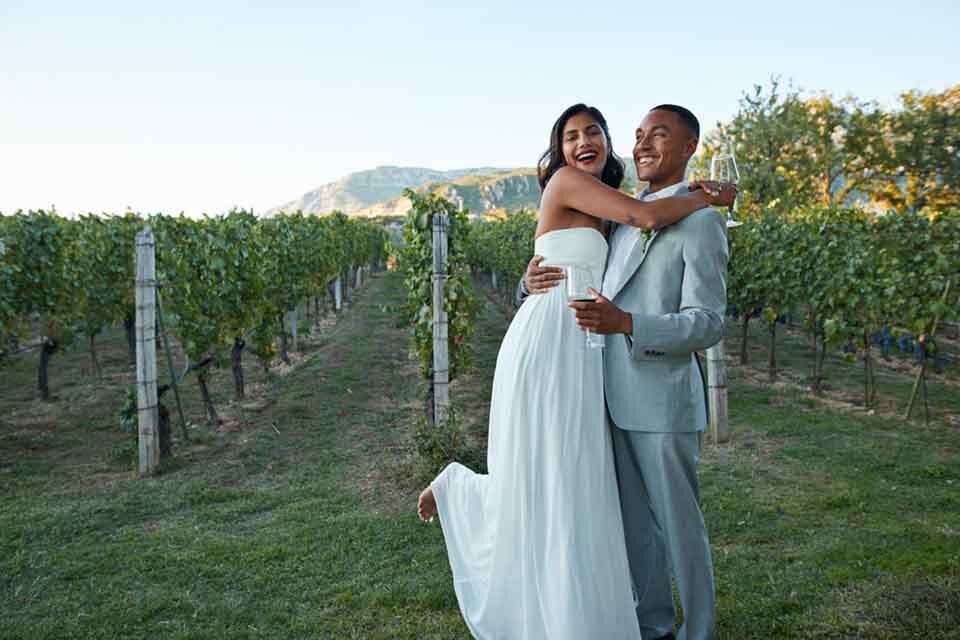 So, you're thinking about holding your wedding at a winery. Maybe you've attended a winery wedding before, maybe you've had it recommended by a planner, or maybe you've just heard about it and are fairly curious.
Whatever the reason may be, you just want the best for your big day, and so do I. I'm going to give you a rundown on what wine country weddings are, whether or not they're truly worth it, and the best Oregon venues to potentially hold your wedding at.
What are Winery Weddings?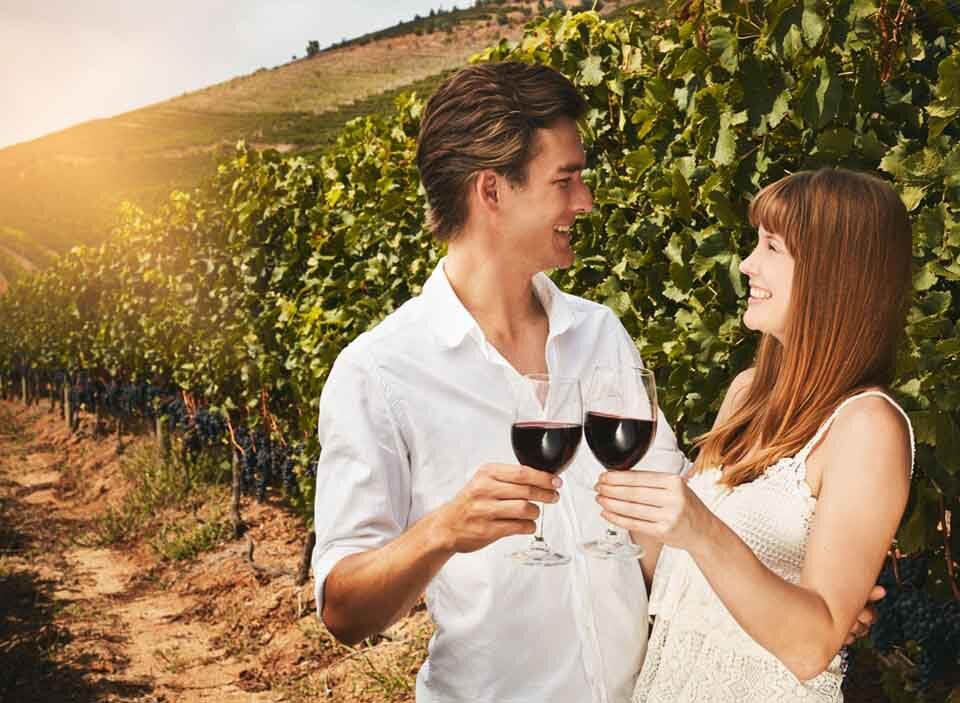 Weddings and indulgence go hand in hand. Ever since the Antique Period, wine has been known as a must have for all celebrations. It's you and your spouse's special day, so what better place to celebrate the occasion than with a bottle of wine? Or two? Or maybe an entire vineyard of it.
Winery weddings are exactly what they say they are: weddings at wineries. Usually these venues take place beside vineyards, where you're able to walk outside and get a good look at the very fields your wine is served from. These venues are known for good food and scenic views, giving the weddings a bit of an old-fashioned rural feel. Many of these estates will hold big events, including weddings, although the size of the crowd does differ. You're more likely to find smaller crowds and a more intimate feeling to the experience because of it. Because of this, they're popular places for people who want to elope or just have a small celebration with immediate family and close friends.
You're likely to come out with a complimentary bottle of wine, though not all vineyards are for grapes. Some have blueberries, pears, hazelnuts, olives, and so on, but rest assured you're likely to taste something special served right from the field itself.
All in all, they're a very unique place to hold your wedding, and unless you have access to another rural estate, you're unlikely to find venues just like it.
Are Winery Weddings Worth It?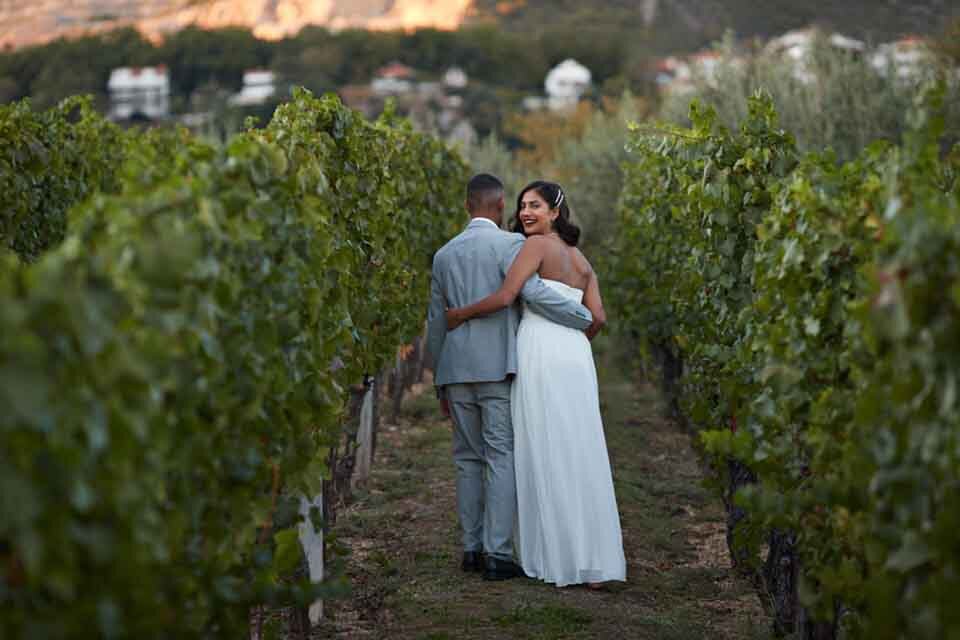 That's the million dollar question right there. Are winery weddings all they're cracked up to be? Well, I'll let you decide as I go through all the reasons why many believe winery weddings to be some of the best options out there.
First and foremost, the views you'll get are unrivaled. They're truly one of a kind, and as I said, unless you know of some separate rural estate that is willing to hold a wedding, you're unlikely to find anything that matches what these places have.
The groves are another reason why they're so fantastic, and no, not just because that's where the wine comes from. Some of the best wedding photos are taken amongst the groves, spouses walking hand in hand while surrounded by an endless vineyard. Not only does it have a very rustic ambiance to it, but it has a very intimate feel to every photo, and they're truly one of a kind.
Another reason is, of course, the wine. At a winery, you're getting it straight from the source. You can choose your wine and share it with the guests, but it's obvious that you'll have to keep a bottle just for you and your new spouse to indulge in during the honeymoon.
One thing that many don't quite think of when choosing wineries is the fact that, more often than not, you're picking a location with temperate weather. Warm days and cool nights, but nothing too overboard on each end, depending on when you go. After all, it's wine country for a reason: not every place is suited for growing rows upon rows of grapes. When visiting a vineyard, you're likely going with better weather.
Winery weddings are also perfect for something that's smaller scale. Most wineries won't hold large parties, so if you're looking for something with just close friends and family, or even to elope, wineries are very well-suited for it. They tend to have a calmer atmosphere and are perfect for something that's still lovely, but relatively toned down on the party scale.
Lastly, the food. Given you're in wine country, you're also going to be around other types of farms and orchards as well. That means you can find a caterer who can make all of your food locally-sourced and as fresh as can be. There's nothing better than farm-to-table food, paired with wine sourced directly from the venue itself.
Why Have a Winery Wedding in Oregon?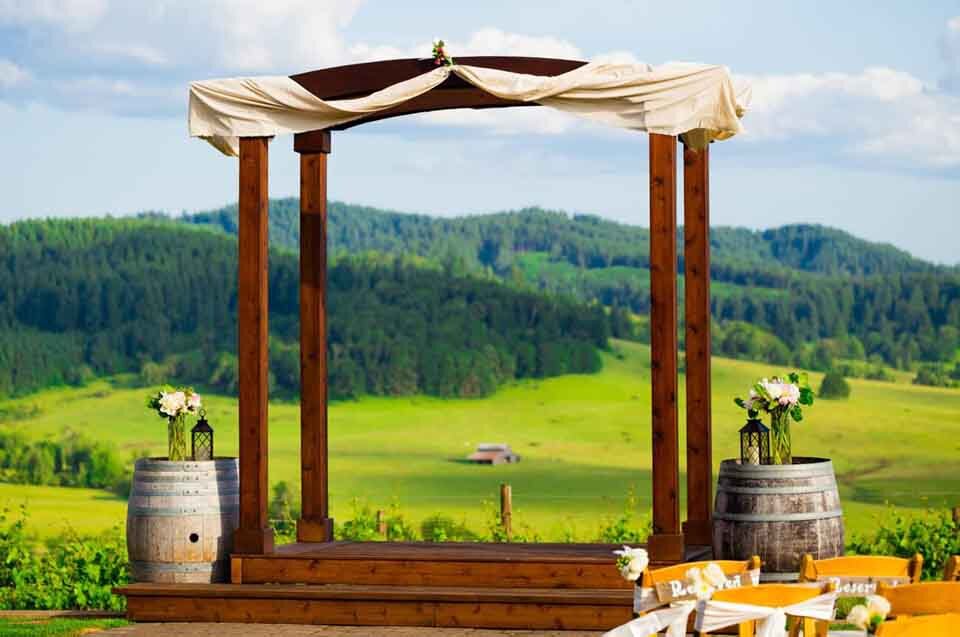 If you've never been to Oregon, you might be asking yourself why this state in particular. Well, believe it or not, Oregon has the 4th greatest number of bonded wineries in the United States, having just under 1,000 within the state. Oregon, like Washington and California, is known as "wine country". It's a state that's already well-known for its abundance in breweries and bars, so if anyone knows alcohol, it's Oregon.
Even if you're not here for the wine itself, you only have to take one look at Oregon's settings to understand why people come to this state's wineries so much: its beauty is unmatched. With how many vineyards there are in Oregon, you're destined to find a rural, serene backdrop for your wedding that will absolutely steal your heart.
So, if you're looking for a winery wedding, Oregon is the place to be. You're guaranteed a nice reception with stunning sights and a nice bottle to cap off your special day.
Best Venues for Your Wine Country Wedding
Oregon has many, many vineyards, all of them with different backdrops and auras to them. They're all beautiful and unique, so if you decide to have a wine country wedding, you're going to have your work cut out for you when choosing a location. From a luxury villa to pear vineyards with sights of Mt. Hood, Oregon has it all.
For your consideration, here are what 10 of the best Oregon vineyards can bring to the table to pair best with your future wedding.
Willamette Valley Vineyards, Turner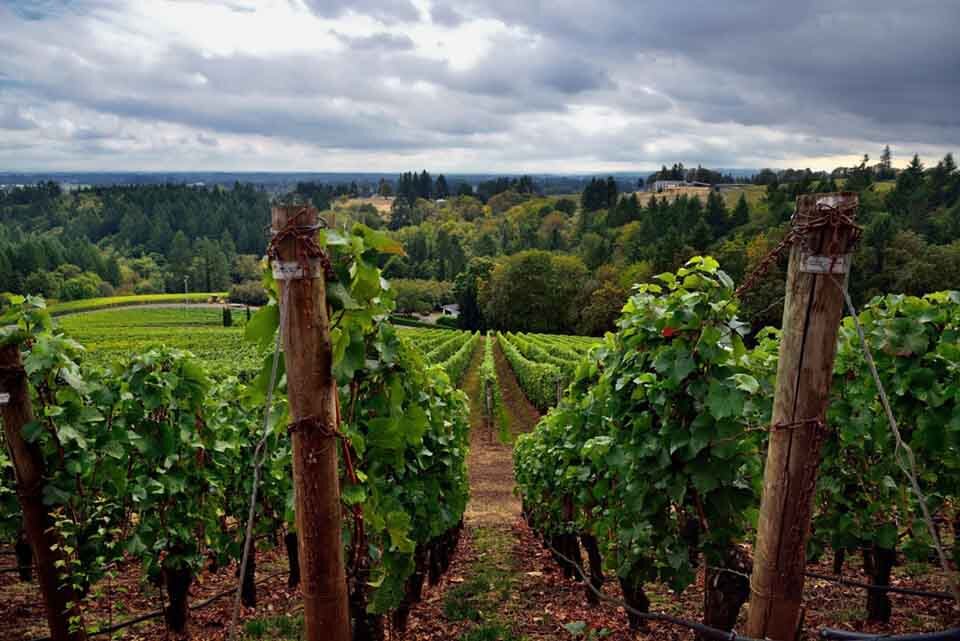 Are you looking for something small and intimate? Perhaps something special for a quick elopement? Willamette has your back completely. While the largest venue they have is a 200 person outdoor option, they have plenty of small scenes for smaller crowds, and all of them are just as beautiful. If you have a crowd that's 100 people or less, Willamette will happily assist. They even have a 30 people or less option for a couple that just wants immediate friends and family, which is located in their Orville Roth Barrel Cellar. It's dark, romantic, intimate, and comes with a patio overlooking the entire vineyard.
Maysara Winery, McMinnville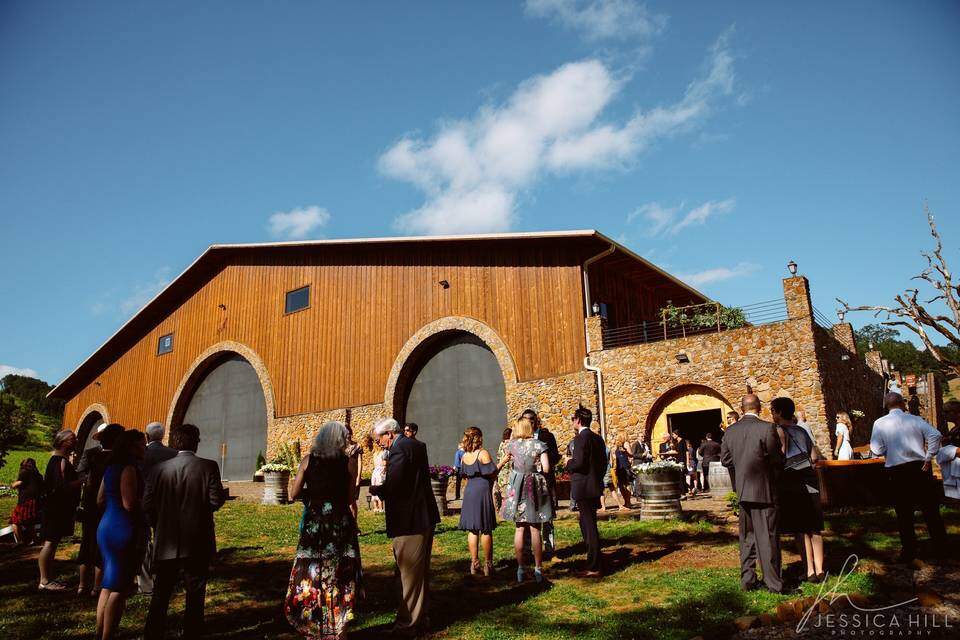 The very definition of scenic, elegant, and old-fashioned, this Momtazi Vineyard is Heaven on Earth for those looking for the perfect wedding. Even though the altar is outside, there's no need to worry about rude interruptions when you're on a 532 acre estate. Your reception would be at the very heart of the winery in a room that holds up to 299 people, guarded by grand double doors towering over the married couple that would be more than a perfect wedding photo. "Unreal" doesn't even begin to describe this place.
Black and Walnut Inn and Vineyard, Dundee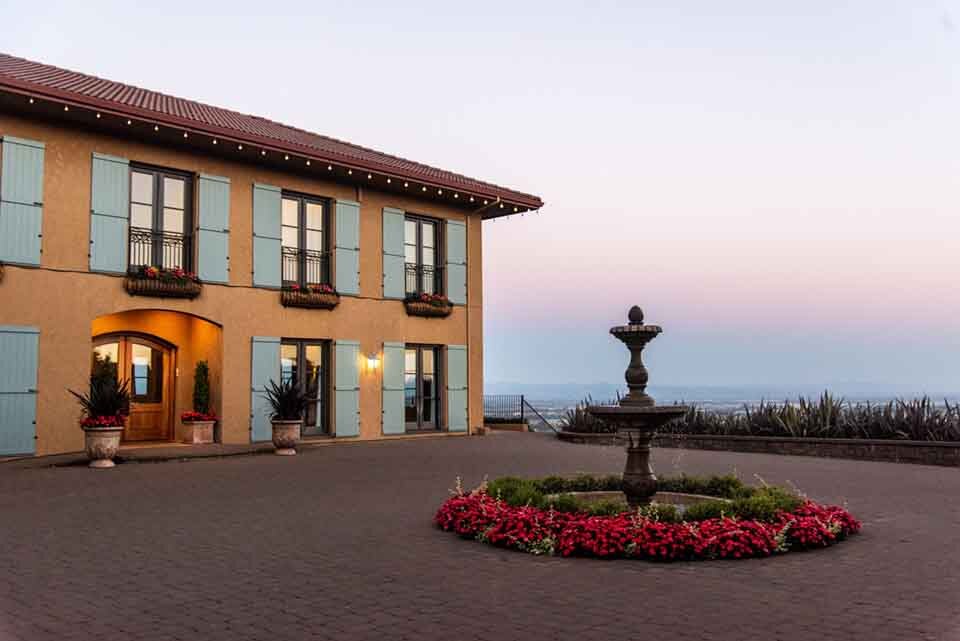 If you're looking for something small and intimate but still with a scenic flair unrivaled by most venues, this inn has you covered. It's perfect for 50 guests or less, but they also have special deals and elopement packages for those with 6 guests or less, including the photographer and officiant. For regular weddings, though, you'll be pleased by the 9 guest suites that are also available at the venue. It's definitely perfect for tight-knit ceremonies while you're surrounded by only the closest of friends and family.
The Orchard in Hood River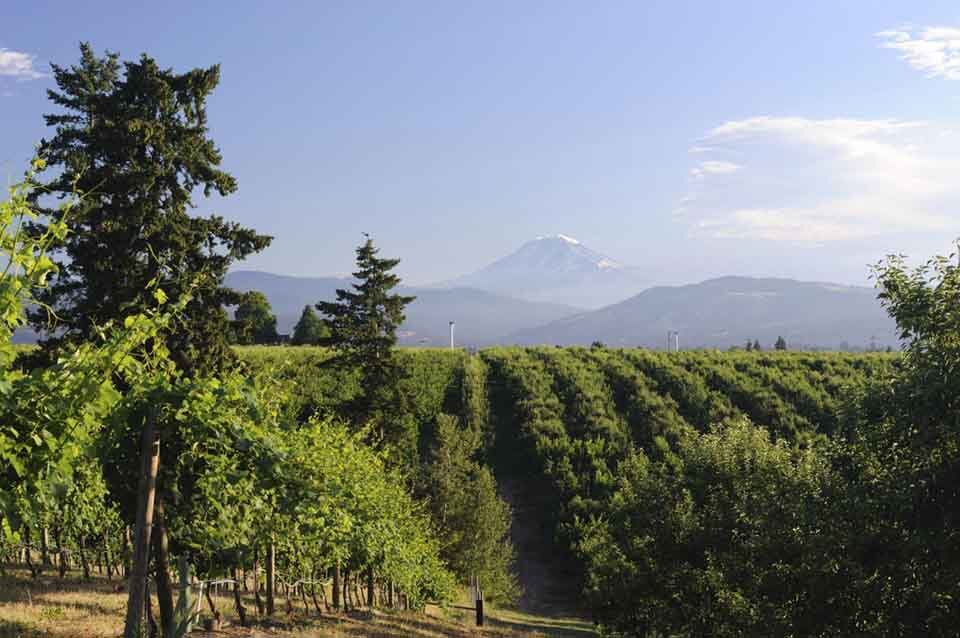 If you're looking for even more of a view than usual, you're going to want to go to this venue, which not only has a stunning view of its vineyard, but also has the backdrop of both Mt. Hood and Mt. Adams. The food is served farm-to-table, and all food is locally sourced, allowing you to taste the best of what Oregon has to offer. It won't be your traditional winery, as it's actually a pear vineyard rather than a grape one, but it's still fantastic nonetheless, and you'll be treated to stunning sights, good food, and a beautiful venue that holds up to 175 people.
Domaine Roy and Fils, Dundee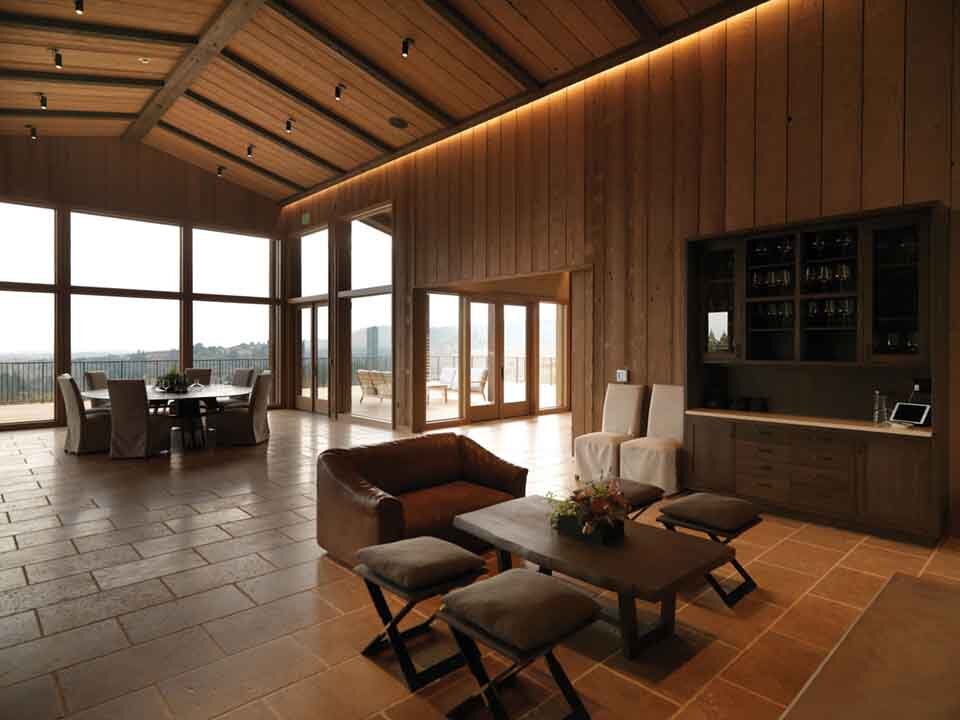 A space mainly for tight-knit, intimate celebrations, this venue holds up to 75 people and comes with access to the tasting room to pick out your favorite wine. It also has a patio and an olive grove for the happy couple to walk through and enjoy their time together. The best pictures, in my opinion, are taken as you stroll through the grove, arm in arm. It's simple, but memorable in all the right places. Trust me when I say you won't regret a single moment.
Domaine de Broglie, Dayton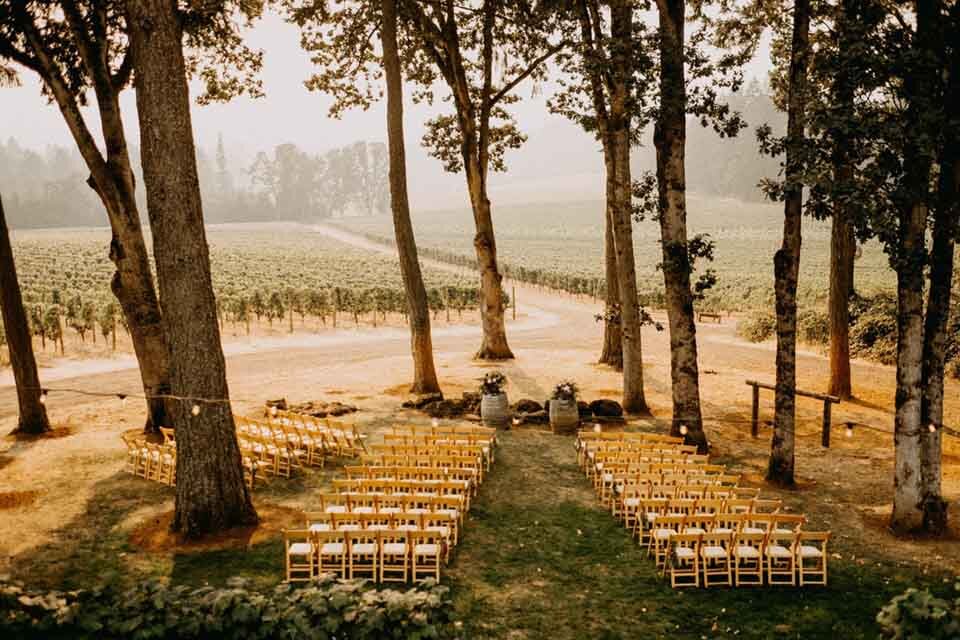 Domaine de Broglie has everything you could ever want and more. You will be surrounded by oak trees overlooking the vineyard, able to comfortably take in the majesty of nature around you. It's the kind of beauty you only see in movies, and that's just referring to outside. The building where the reception is held is beautifully crafted with stunning architecture. The cap for seating is at 100 people, making it perfect for an intimate wedding.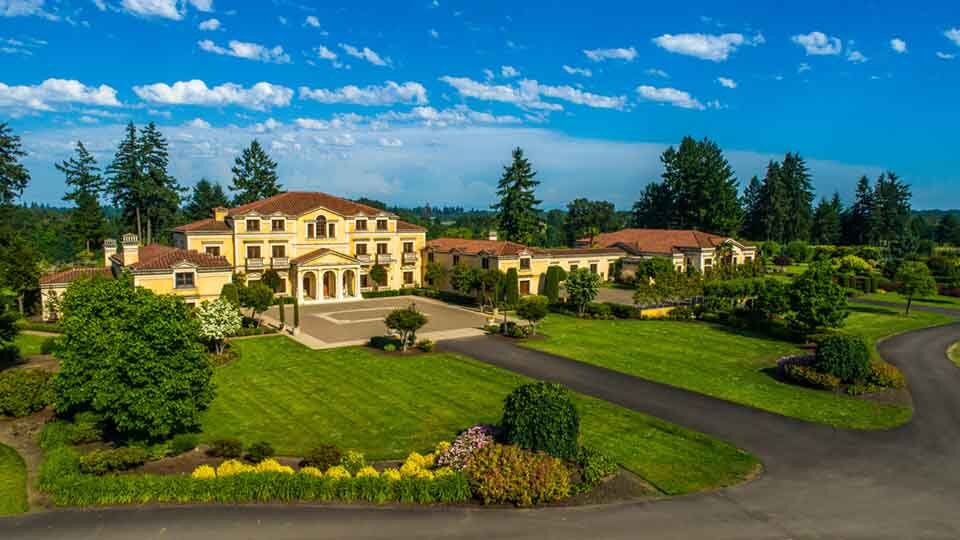 This villa is for when you truly want to feel as though you're living in luxury. It sits on a 46 acre estate with blueberry and hazelnut groves at its back. It's inspired by Italian Chateaux, and you can absolutely see it from the beautiful architecture alone, both inside and outside the building. Pristine checkered floors, a spiral staircase, 8 suites for you to enjoy, and time to bask in the fact that you're both basking in the best day of your lives. They don't do large events, so make sure you bring only immediate family and your closest friends and have a grand time. It's the perfect place to elope and know what pure luxury feels like.
Falk Estate Vineyard, Canyonville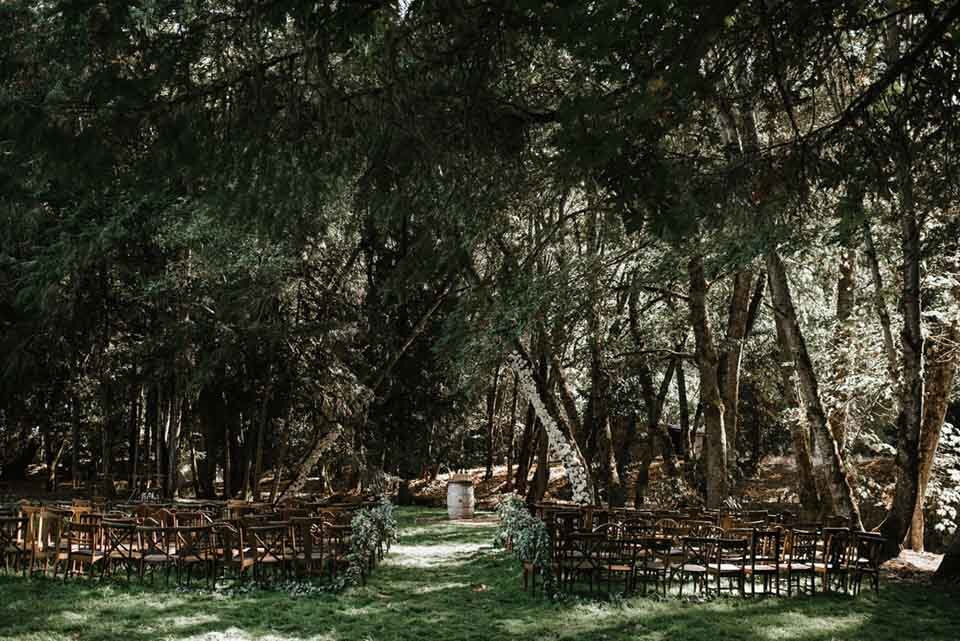 Held at a 9 acre vineyard on a 400 acre ranch, you'll find yourself surrounded by nature and enshrouded in the shade of towering oak trees as you stand at the altar. Then you can take your photos as a sprawling field, perfect for those photos where you and your spouse are the complete center of attention standing before a calming and peaceful backdrop. It's really only for intimate weddings around 100 people, allowing a quiet wedding where you two are the apples of everyone's eyes. Or, well, the grapes.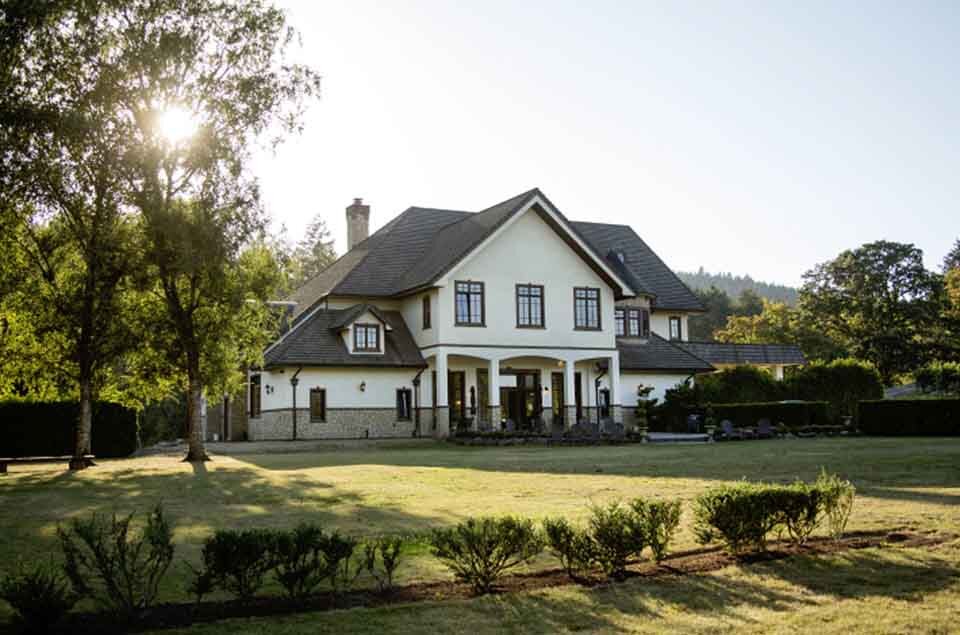 With 6 different spaces to choose from, you'll be able hold a ceremony of up to 150 people within a lovely garden. You can watch guests file in from the overlook area, and the gardens themselves are beautiful and perfect for pictures, though it's a no-brainer that you need a few within the groves right beside the reception area. Thankfully they have indoor locations in case the weather objects to your union, but which are just as beautiful. Needless to say, they're well prepared, and you can rest easy knowing your wedding will be one everyone will adore and remember for ages to come.
Durant at Red Ridge Farms, Dayton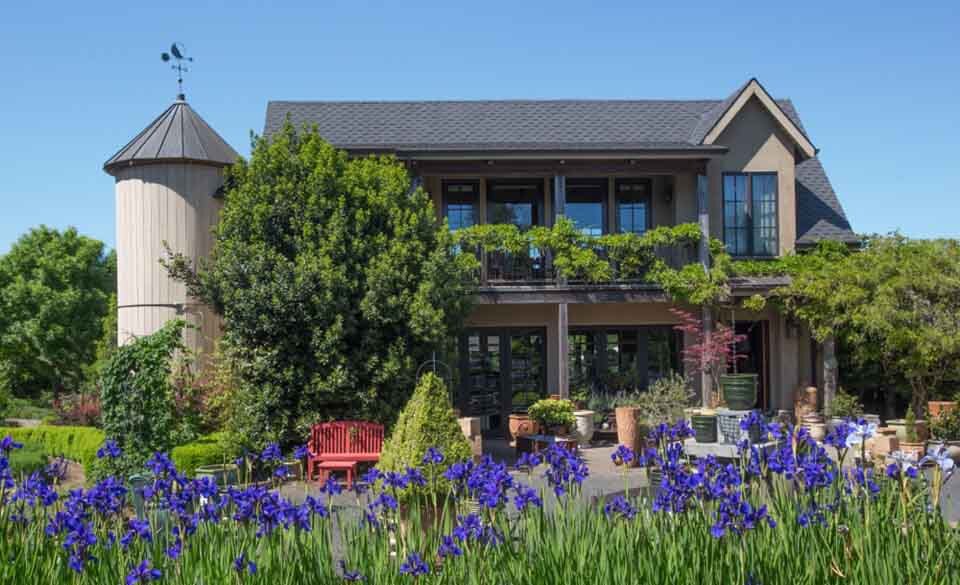 This venue has indoor spaces that hold weddings of 80 or 150 people, allowing for an intimate experience while still being able to take in the scenery outside. The venue has all sorts of features including an olive mill beside the vineyard, so you can taste some fresh olive oil in addition to a fresh (or, well, not fresh — that's the point of wine) bottle of wine. One thing I absolutely have to recommend you do is to take advantage of the lavender fields they have at the venue. They're the perfect place for pictures, and they'll give your wedding a unique look when compared to the other vineyards listed here.