Use the Same Beauty Products Pamela Anderson Keeps in Her Purse
'We Didn't Know About This in the '90s'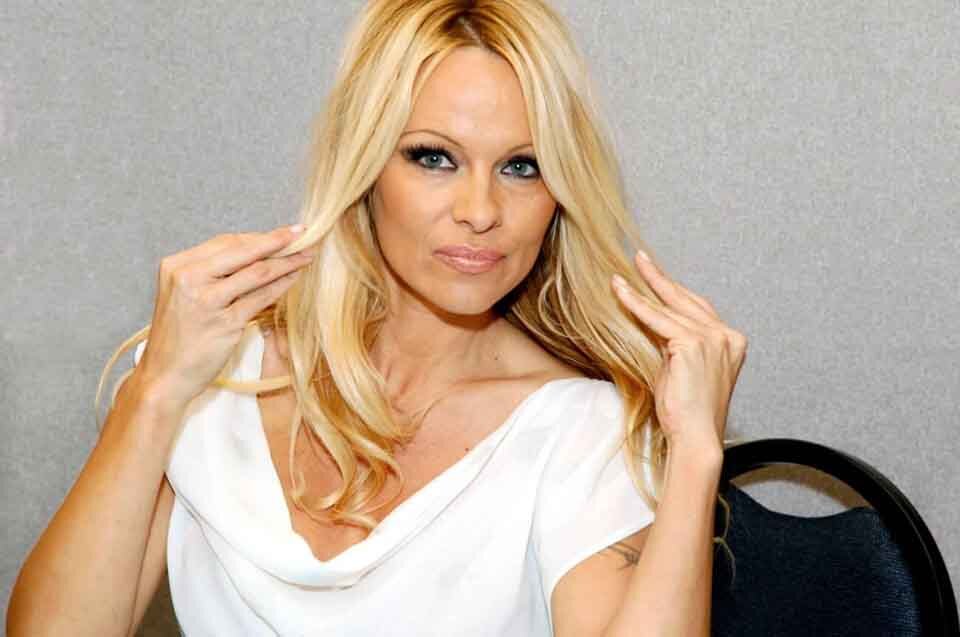 Pamela Anderson has been a beauty icon for the past three-plus decades.  We have seen her in many TV shows, movies, on the cover of magazines, and much more. Each time she looks as gorgeous as the next, without much changing about her.
While her eyebrows remain thin, and her face still looks the same, some of her other products have changed.  She has added a highlighter from a beauty brand many makeup artists and celebrities adore. Why? Because it produces glowing skin!
Anderson was featured in a British Vogue video earlier this month. Here she can be seen dumping out the belongings of her chic Stella McCartney handbag. The actress, author, and activist then began sharing what makes the products great enough to toss in your purse to have with you at all times. She snatched her Ilia Beauty DayLite Highlighting Powder and began buffing it over her face.
Anderson said that while this product was not around in the 1990s, it is a good one. We tend to agree with her. Simply by applying to the face with a makeup brush, the shimmering dust creates a gorgeous bronze glow that can be noticed from a decent length away. There are assorted tints to pick from, including two of our favorites- soft gold and rose gold. This formula is talc-free and is packaged perfectly. Once you have used every last particle of shimmering dust, you can easily recycle the package.
Anderson, who is probably best known for being married to Motley Crue drummer Tommy Lee and playing Casey on the TV series Baywatch uses the Ilia Beauty Perfecting Buff Brush to apply the highlighting powder. We love it because not only is it rather small in its magnitude but also handy to grab out of your purse when you are on the go, as Anderson has shown. Plus, it is super simple to clean with gentle soap.
Anderson does not stop there when it comes to using Ilia Beauty products. She also had the Ilia Beauty True Skin Serum Concealer in her purse as well. Her $32 concealer has received rave reviews from over 3,000 customers on Ilia's website, despite Pam's silence on camera. Is it because this concealer comes in 20 shades? Or the fact that it is vegan and cruelty-free? Some may even say it is because the skin improves over time. Or perhaps it is because it is the winner of  Best Clean Concealer, Allure's Readers' Choice Awards (2022), and Best Clean Concealer, Glamour Magazine (2020).
One reviewer said they have tried lots of concealers and foundations over the years, but Ilia foundations and concealers feel lightweight and airy on the skin.  She then went on to say that it was like she had nothing on her skin.  A second wearer stated it is a  rich non-drying formula that blends like a dream. Another wearer said she was so impressed with the color matching and loves how easily it blends. Using the personal customer service option allowed her to match the shade perfectly to her skin tone.
Eager to try another beauty product the actress keeps with her? The Summer Fridays ShadeDrops Broad sunscreen has a small amount of squalane in it to keep the skin soft and make the skin barrier stronger. This SPF 30 sunscreen, which is also used by Hailey Bieber, not only safeguards skin from UV rays but also free radical harm. This fragrance-free sunscreen provides a natural finish while hydrating the skin. It is vegan and lightweight and can be used on dry, oily, combination, and normal skin. It is a (1)Reef Safe SPF, which means it is not formulated with Oxybenzone, Octinoxate, Octocrylene, Homosalate, PABA, 4-methyl benzylidene camphor, Parabens, Triclosan, nano-sized zinc or titanium dioxide, or microplastics.
References:
(1) https://www.sephora.com/product/shadedrops-broad-spectrum-spf-30-mineral-milk-sunscreen-P500181