Oregon Ducks Release Their Bright New Uniform 1st Game Combo Ahead of The Matchup vs. The Portland State Vikings
Analysis on Matchup for the Season-Opener vs. Portland State Vikings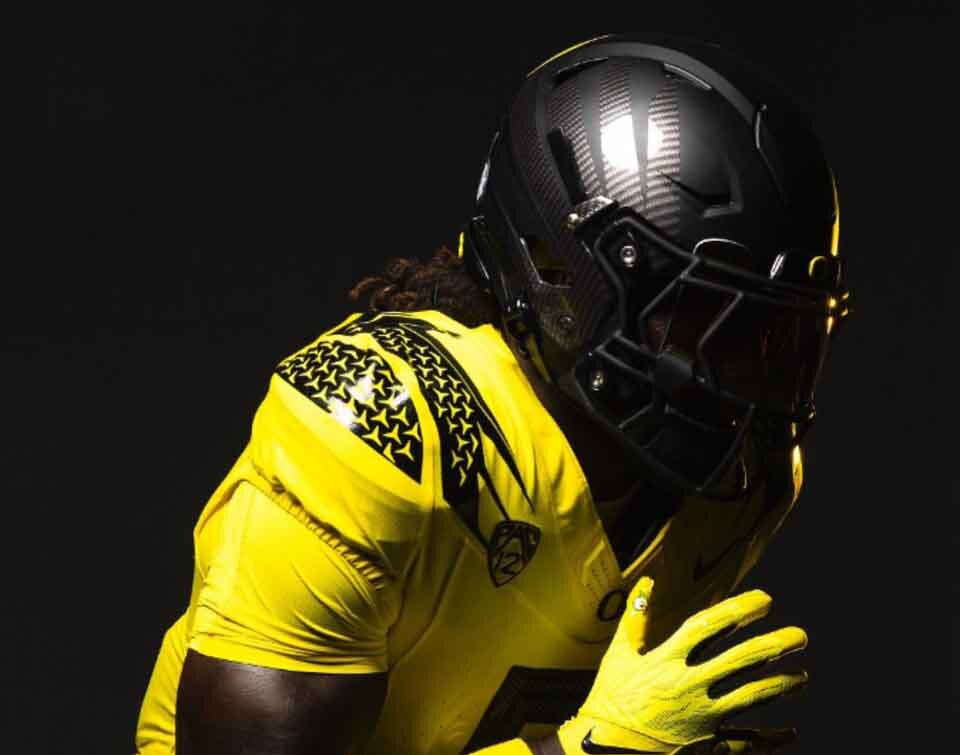 It's been eight long months, but finally Ducks fans are able to watch the star team tackle the 2023 college football season. Now, to get the fans hyped for their season-opener against Portland State, they've finally revealed the game 1 uniform combo. 
The Ducks revealed the splashy new combo on a post on X (formerly Twitter), showing off what they'll be wearing when they step onto the Rich Brooks Field at Autzen Stadium come Saturday when they face off against the Vikings.
Powered together.

Game 1 uniform combo for @OregonFootball. #GoDucks pic.twitter.com/41cc6UFZYI

— GoDucks (@GoDucks) August 31, 2023
Modeled by Jamal Hill, the combo comes with an all-yellow style with small three-pronged stars dotting the shoulder pads surrounded by black, and dotted gradient design along the identifying numbers on each uniform. They're sported by all black helmets, black from the knees under, and nice yellow shoes.
It's definitely a look that will make them stand out on the field, and the fans seem to really dig it. However, they were hoping that 2023 would be the year that they introduce new jersey templates, but it seems like we'll have to wait until next year for this to happen. However, the Ducks do plan to release a couple of one-off jerseys this season, coming in with a litany of new cleats and helmets that will be shown off throughout the season to really bring some variety to the football fields.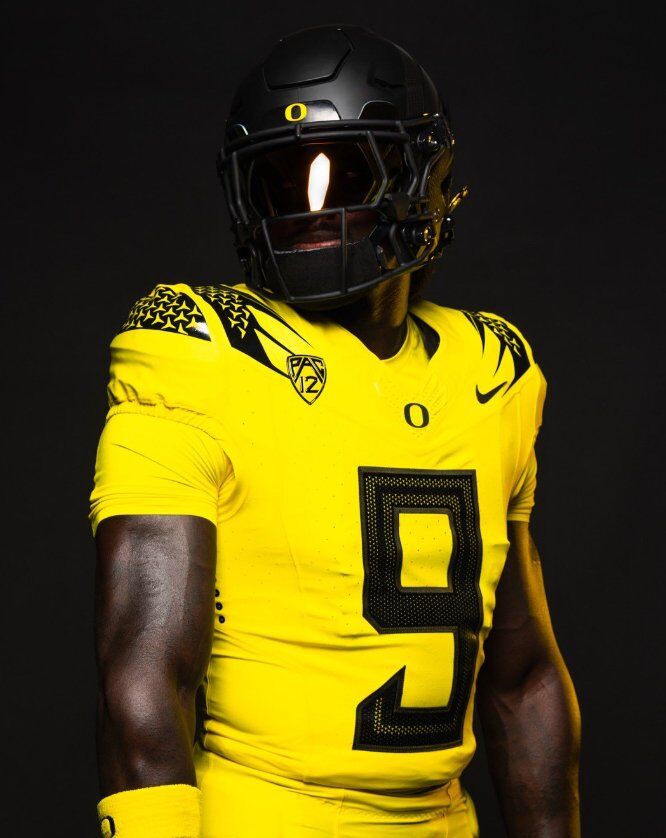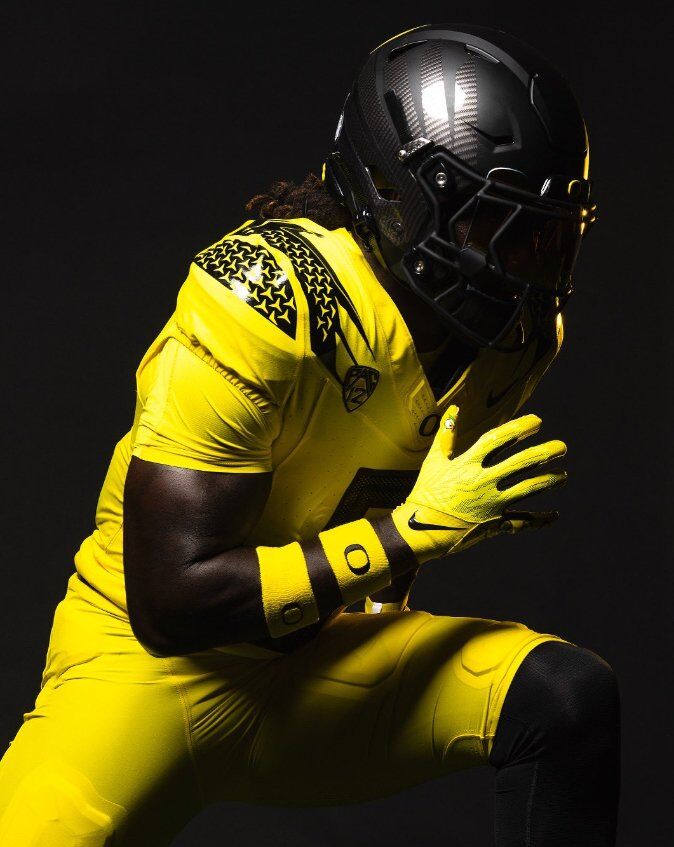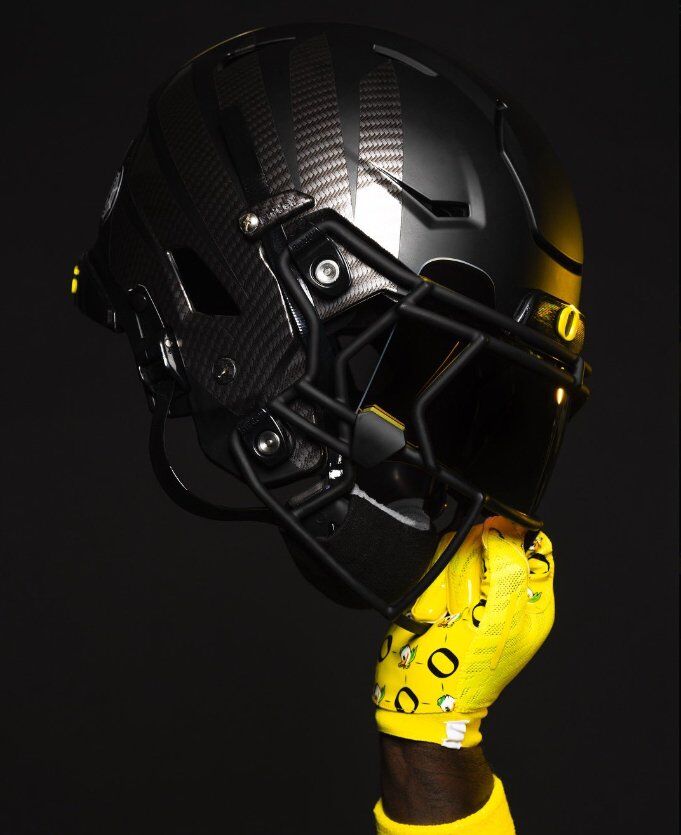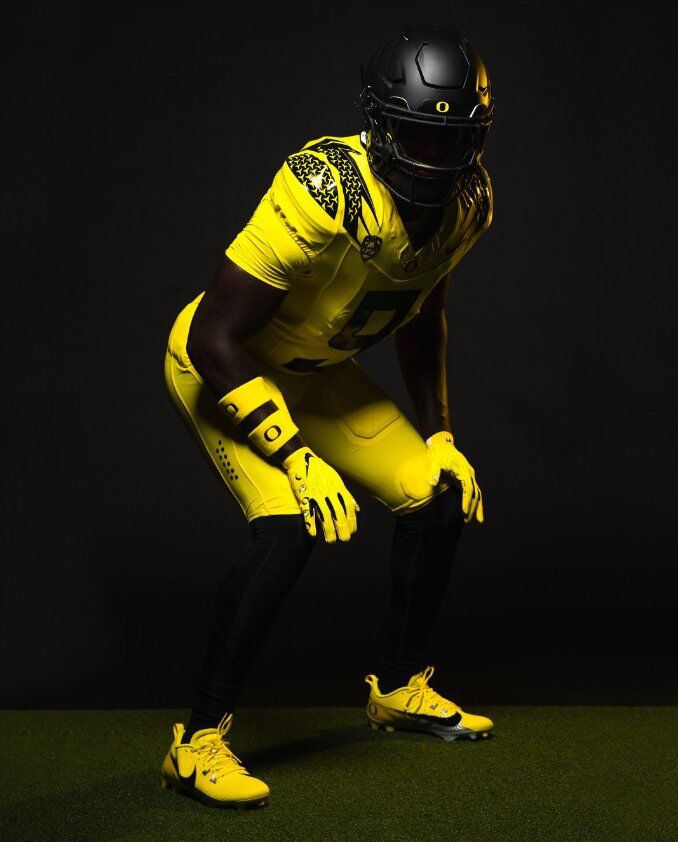 We know the Ducks will really make a statement when they reveal themselves on Saturday. We can't wait to see their colors travel the field to make some amazing plays
Speaking of the game, let's get onto the details you need to know about the upcoming Season-Opener. The football jerseys may be great, but if we just wanted to see some good designs, we'd go to a fashion show. We're here for some football.
It's heavily speculated that the team does fairly well for themselves, but it doesn't help to look at a few matchups. 
With the quarterbacks, Bo Nix vs Dante Chachere, Nix no doubt has the edge. There's not only a disparity in stats, but Nix is also more experienced and in a different class.
When referring to the RBs, we have to give the edge to Oregon, though it can't really be considered fair when one team is particularly pass-heavy. With the dream team of Bucky Irving, Noah Whittington, and Jordan James, they've got this in the bag.
When it comes to the pass catchers, again we have to give the point to the Ducks, but just barely. Troy Franklin leads the way with Tez Johnson, Traeshon Holden, and Gary Bryant right behind him; it's fair to say that Portland State will have their work cut out for them.
Portland State, bless their hearts, will definitely be playing their hearts out, but (knock on wood) rest assured that Oregon has this in the bag. From new jerseys to interesting matchups, let's just say that the Ducks will be making one hell of a statement on Saturday.