Oregon Ducks Pummel Portland State in Record Breaking Score of 81-7; Bo Nix Steals the Show; Game Highlights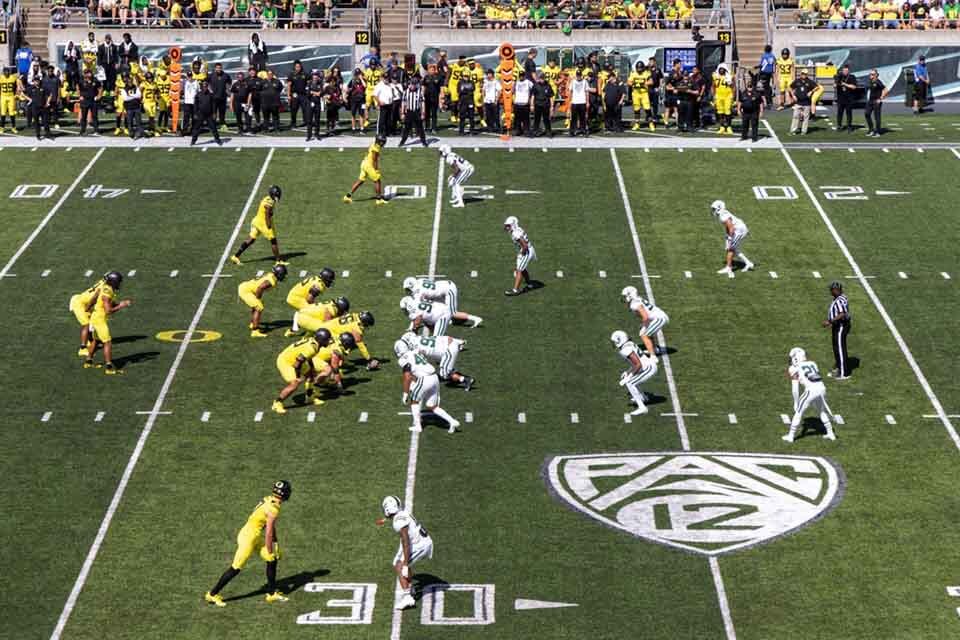 We had high hopes for the Ducks. We had very high hopes. It was a no-brainer that they would beat Portland State by a mile, and I personally predicted they would double the score of Portland State.
Clearly we did not have enough faith in the boys in yellow, because not only did they win the game, they smashed it out of the park and out of this atmosphere.
Even if the students weren't back in Oregon University today, the stadium was still packed with eager fans ready to see their team win, and boy did they get the show to really kick off the season.
The final score was an astounding 81-7, a blowout so large that no one had been expecting it, and it shattered the school's scoring record.
Let's just say that it's good to be back.
Now, it's best to keep in mind that it will be a long season, and while this was a promising outcome to start off the season, it's not a score fans should get accustomed to. Everyone knew Portland State was going to lose; it was a given, and that allowed for a far more lopsided victory. They will be going up against tougher opponents, specifically next week, where Texas Tech will give them their first real challenge. While this game was Oregon really putting on the work, their game in Lubbock, Texas, will be testing the quality of that work. It's time to see just how well their defense is, and we hope to see a 2-0 for our valiant Ducks.
With that out of the way, let's get onto the get parts of the game.
Key Parts of the Game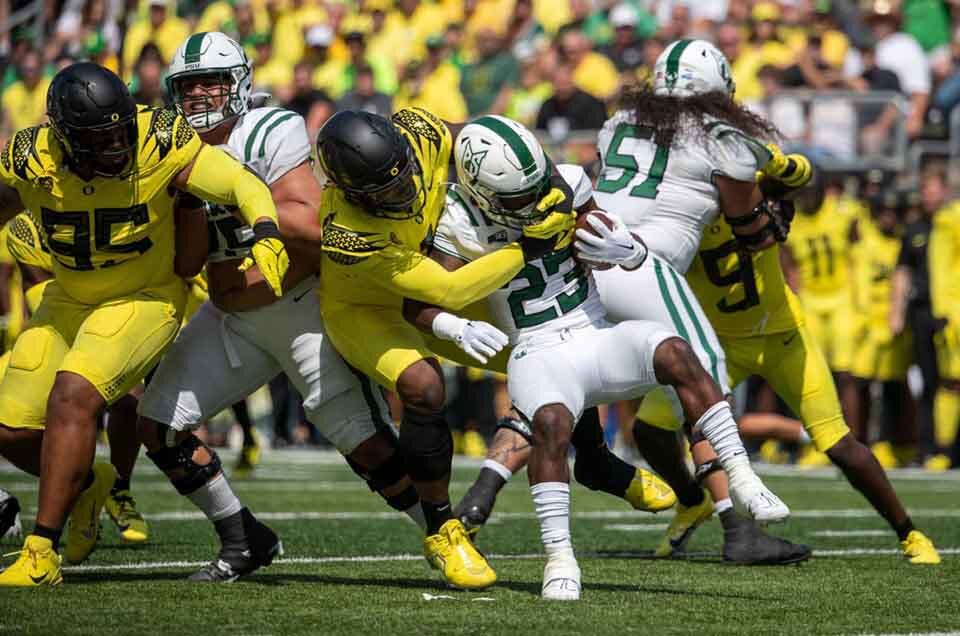 There were quite a few takeaways I had. For one, the Ducks did well on the penalties side; they had only two penalties and one punt.
The secondary really had that A-game, and they looked great stopping that run and pass. Just as well, the offensive line had no trouble whatsoever, giving the QBs and RBs plenty of time to do their things.
Probably the biggest show-stoppers were Bo Nix, Ty Thompson, and the Oregon WR squad, who displayed their skills when it came to the passing game.
There were 50 points on 427 yards of offense during the first half, something that really impressed, and 12 players caught at least one pass during the game. In the end, 8 of the ducks had touchdowns.
Players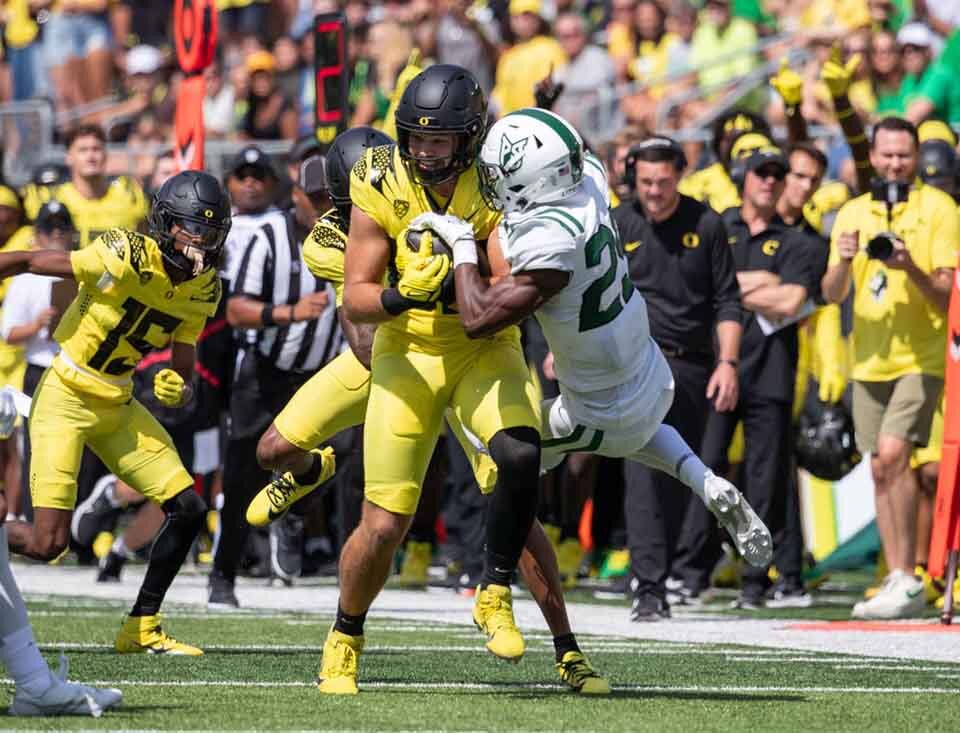 It seemed like everyone had a key part in today's game, something we all like to see. However, there were some particular standout players that still need to be highlighted. They're the ones to look out for during the upcoming games.
Like I said, Bo Nix really stole the show. Nix had a 23/27 passing, got 287 yards, scored 3 TDs, had a 10.6 avg, had a completion percentage of 85%, and a 211.1 passer rating. Ty Thompson also had a 200+ passer rating, making him a key part as well.
Another show-stealer that needs to be mentioned is Gary Bryant Jr., who finished the day with 7 Rec, 100 yards, a 14.2 avg, and 2 TDs. We believe that after this impressive display, Bryant has the real potential of becoming a WR2. He was definitely a fan favorite this time around, and I'm sure he'll continue to impress as the games keep on coming.
Bucky Irving also came to play today with
4 rushes, 119 yards, a 29.8 avg, scoring 2 TDs, and 2 50+ yard TDs.
Jordan James had 10 rushes, 86 yards, got a 8.6 avg, and scored 3 TDs.
Troy Franklin finished with 7 rec, 106 yards, had a 15.1 avg, and scored 2 TDs.
Lastly, Tysheem Johnson had 4 impressive Tackles, 2 Solo tackles, and I TFL